Rules for Five Question Friday: Copy and paste the following questions to your blog post, answer them, then link up with Mama M. Come on. Join in. It'll be fun!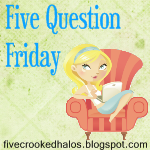 1. Do you
regift
...and if so, do you have a
regifting
horror story?
I have never regifted, but I am not totally opposed to the idea. I also would not be offended if someone regifted something to me. I feel that if I have been given something that I know someone else would want/enjoy more I wouldn't feel bad for giving it to them.
2. Do you know what you are getting for Christmas this year? I don't know anything that I am getting for sure. I really hope that Santa thinks I have been a good girl this year and brings me the pair of black Uggs I asked for. I know I will really enjoy them and that my feet will stay warm all winter. The brown pair I have just don't match everything I wear. I'm sure I have said other things that would like, but I don't know what I will find under the tree! I hope that others don't know what they are going to find under the tree from me, either.
3. Who brings the most gifts in your family, you or Santa? Since we don't have kids yet, I'm not sure what our tradition will be. Right now Santa usually only brings 1 each for us adults. We'll have to see what happens when the little ones arrive.
4. What store do you love to buy jeans from? I love jeans from different stores at different times. I used to love jeans from Old Navy, but not so much anymore. Now, I have been buying my jeans from Maurices because they carry Silver Jean, which have become my favorite.
5. Christmas meal: Big, All Out Meal or Snacks and Apps? When we are at home, we go all out with a full meal of turkey, dressing, noodles, etc. We usually eat this meal at lunch then pig-out again at dinner. We aren't going to be home this year, but we are still having a big meal for lunch. We already have the reservations so we can carry on the tradition.