Rules for Five Question Friday: Copy and paste the following questions to your blog post, answer them, then link up with
Mama M.
Come on. Join in. It'll be fun!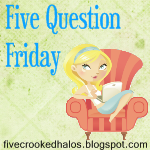 1. What's on the top of your holiday wish list and why?!
We are going on vacation to Disney World this year so my holiday wish is that everyone has a good time. I want us to enjoy being able to spend Christmas together and to remember the real reason for the season. Hopefully, stress will not get in our way.
2. What is your favorite Christmas gift from the past?
Wow, this is a really hard present. My favorite thing about Christmas has always been being able to spend it with family. I always get so many nice things that it is hard to pick just one. I always love picking out gifts for others and seeing their faces when they open it. Getting to spend Christmas at Disney World seems like one heck of a gift to me.
3. If you had life to do over, what would you be when you grow up?
I can never imagine myself doing anything besides being a teacher or working in some capacity in the field of Education. It's what I have always known and felt comfortable doing. I feel like teaching is in my blood and constantly running through my veins. The only other option I could even fathom would be to be a stay-at-home mom, but I don't even know how long I would enjoy that.
4. When do you put up your tree?
Since we are gone the whole week of Thanksgiving, we usually decorate the hose, including the tree. It seems a little early, but it is so nice to have it done when we get home the weekend after Thanksgiving. We don't turn on our outside lights until after Thanksgiving. I do feel guilty for kinda skipping over Thanksgiving,but my need for sanity wins the battle and the decorations go up early.
5. What is your favorite Holiday?
I used to be able to say Christmas, hands down. But, now everything always seems so crazy this time of year. I love the spirit and the meaning of the season and wish that life would just slow down so I could soak it all in. When I can keep myself grounded and remember the reason for the season, I still just adore it.