I am linking up with
Mama M's
Five Question Friday. Hop on over and check it out or link up yourself.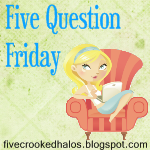 1. How often do you shave your legs in the winter? I'm sure not near as often as I should. In the winter I only shave about once or twice a week, usually on the weekends when hubby is around. I don't want to gross him out or myself for that matter. After a while I just can't take it anymore.
2.
Valentine's Day cards for your spouse: funny or romantic? I tend to send the mushy romantic ones. I know I don't tell him often enough my true feelings and appreciation I have for him so I take holiday cards seriously. I will spend a really long time trying to find the perfect one to express my thoughts and feelings.
3.
What are you most looking forward to about spring? I'm looking forward to seeing the sun again. We have been gong though a period of cloudy gloominess. It will also nice to have mild weather and to see all the beautiful flowers and trees coming back to life.
4
. W
hat's your favorite way to pamper yourself? In the winter, I love to take long, hot baths. It lets me get nice and warm. It is super relaxing and it gives me a chance to do some reading in peace and quiet. In spring and summer, nothing can beat getting a pedicure. They make me feel like a brand new woman.
5. D
oes your tax return go into savings or do you spend it instantly? We usually use our tax return to make our donation to the Razorback Foundation and to buy our season tickets for the football games. This year, we will try to put some of our return away in our "baby fund." For the record, we are NOT pregnant. We are just planning ahead.
I hope everyone has a great weekend. We are heading to Tulsa for mom's birthday trip. We will be taking in the Oklahoma Aquarium and other indoor activities because it is supposed to be really cold. Hopefully, we will make it home before the winter weather hits. The weatherman is predicting that we could get 2-4 inches Sunday through Monday. Hopefully, not! I would love to get out of school in May.