The time has finally come! Mike is graduating with his master's this weekend! I am so proud of him and his hard work over the last couple of years. I am heading down for his College of Education pinning ceremony today and graduation is in the morning. Yay! Hopefully, I'll have some pictures up later this weekend or early next week
Now for Five Question Friday with
Mama M
.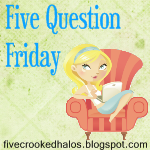 1. What did you wear to prom? Include a picture if possible.
The only reason I had easy access to a picture is because one of my friends posted some to Facebook. I knew Facebook was good for something. So here are some shots from junior prom in 1996.
I'm on the right. I fell in love with the sequined top immediately. You can't see the bottom, but it was flouncy chiffon that came above the knee. I remember thinking I was cute and sassy that night. The best thing about this picture is that it has two of my good friends in it. We were rocking the red.
2. Would you rather be on the biggest loser or a food eating challenge?
I think a food eating challenge sounds so fun. I would love to travel across the country/world trying different foods. My waistline probably has a different idea. Going on the Biggest Loser would be better for my health. I'm pretty sure I would be miserable the whole time I was there, though. I'm really sensitive and wouldn't like the trainers yelling at me. However, everyone always looks so amazing at the end so that would be the nice part of it. I would be really happy then so I guess the Biggest Loser it is.
3. Favorite Sonic Drink? Refreshing Summer drink?
Oh, how I love Sonic drinks. The ice and cup that keeps everything cold for a really long time are the best. My all-time favorite Sonic drink is Cherry Dr. Pepper. I usually get a Cherry Diet Dr. Pepper or Cranberry Sprite Zero to save a few calories. There's nothing better than getting your favorite drink at Happy Hour for half price. My favorite summer time drink is homemade lemonade.
4. What was your first car, and what did you call it?
My first car was a 1994 Pontiac Grand Am.
It looked a lot like the one in this picture. It had tinted windows. I used some of my birthday money to buy a nicer radio for it that had a CD player. I didn't really have a name for it, but I was so proud of this car when I got it. I was so happy to have this car when I turned 16. I'm sure I'll always be a little nostalgic about it since it was my first car.
5. What's one thing your child or spouse does that sends you over the edge?
I know this is going to sound so weird, but it drives me completely bonkers when Mike picks at his fingernails or toenails and it makes noise. He is a little OCD about his nails. If they are not perfectly even and smooth he will pick at them to get them that way. I am always bugging him to use the proper grooming tools, but he says they are not always available. But, that little clicking sound gets to me every time!